Deadline 30th june
The Club of Bologna in collaboration with the Accademia dei Georgofili and FederUnacoma organizes the third edition of the "Giuseppe Pellizzi Prize", an international competition reserved to PhD Theses devoted to Farm Machinery and Mechanization topics. The prize is awarded concurrently with the agricultural machinery exhibition EIMA International, held in Bologna (Italy) every two years.
Applicants must have achieved a PhD with specific reference to the sector of "Agricultural Machines and Mechanization" under the following specific headings: (i) Tractors and Engines; (ii) Agricultural Machines and Mechanization; (iii) Components and Materials; (iv) Automation and Electronics. The submission deadline is 30th June 2018.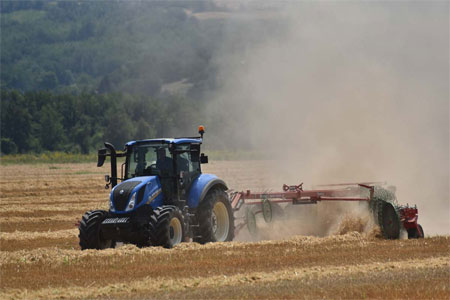 July 13/15/2018 - Eima Show Umbria 2018 (Perugia, I)
The second edition of EIMA Umbria Show, the event showcasing machinery and equipment for precision agriculture, will be held in Central Italy again. Three days of field tests of state-of-the-art technologies for soil preparation, seeding, fertilization, irrigation, treatments and haymaking. The event is organized by FederUnacoma together with Coldiretti Umbria, the UmbriaFiere, University of Perugia, the Agraria Foundation Institution and Cesar. In Casalina the most advanced electronics is applied to agricultural machinery, to guarantee higher productivity, an improved use of resources, safety for operators and respect for the environment, for the development of a 4.0 Agriculture.
November 7/11, 2018 - Eima International (Bologna, I)
The great exposition of agricultural mechanics came closed its last edition with the new record of 285,000 visitors from 140 countries arriving in the Bologna trade fair quarters. A large number of business meetings and widespread interest shown by the news and social media for the event staged as a great festive event for agriculture and the earth.
October 2019 – Agrilevante (Bari, I)
The event is dedicated to machines, plants and technologies for agriculture, and is the most important event in the field of agriculture, not only for the central and southern Italy, but for the entire Mediterranean basin, Europe and the Balkans middle East.
December 2019 – Eima Agrimach (New Delhi, India)
EIMA Agrimach India is the window interface to the global agricultural equipment and machinery market, current trends, growth drivers, new product innovations, recent industry activity, and undiluted focus on global majors who represent this booming sector. It is the only business to business event of its kind offering a single venue interface between Indian & global players in the agri-machinery sector. The event is organized from FederUnacoma and Ficci.